Export
After the war the ecomonies of Europe, aided by the Marshall Plan, made a remarkable recovery. Between 1947—1952 industrial production rose more than 35%, the fastest period of growth in European history. This allowed the toy companies of Europe not only resume their pre-war production, but to expand into new markets.
By the early 1950's the Danish economy had also recovered and Lego sales were growing, but it had become clear to Godftred that they would have to expand their markets abroad. For most Danish companies the easiest export route was to other Scandinavian countries and Godtfred had already laid much of the ground work with his foreign visits a year earlier.
Not suprisingly Lego's first exports were to neighboring Sweden. Little is known about these early sales but by 1950 or 1951 Lego was selling Automatic Binding Brick sets with Swedish language instructions. Their distribution appeared to be limited to Southern Sweden.


Swedish Automatic binding Brick pamphlet, 1950
Norske Lego A/S
In 1953 Godftred found his first foreign partner, Svein Strømberg, Akersgaten 39, Oslo, Norway. Svein Strømberg & Co. A/S, was founded in 1941, began plastic production in 1946, and by the early 1950's was a significant manufacturer of plastic household goods. Due to Norwegian import restrictions at the time Lego could not directly export the finished toys so they began a licensing arrangement. Strømberg set up a manufacturing and sales division, Norske Lego A/S, and licensed the molds and technical knowledge from Billund. Lego received royalties from equiptment sales and technical assistance.
Norske Lego produced several Lego designs, including the Ferguson Traktor and most importantly the Lego Mursten. They also licensed and manufactured many different toys from other companies, including the plastic Lego Byggepinner and the die-cast Tekno vehicles, which were marketed under the names Mecline, Mini-Cars, or Nikrom.
The license lasted until 1962 when manufacturing reverted back to Billund. Lego set up its own Norwegian sales division; also under the name Norske Lego A/S.
Sweden
Lego began their major export effort in Sweden with the introduction of the System i Leg in 1955. Because there were no import restrictions like those in Norway, and perhaps due to the close proximity to Denmark, Godtfred did not look for a licensee but a distributor. He turned to Axel Thomsen, whom he had met on his 1952 Scandinavian trips.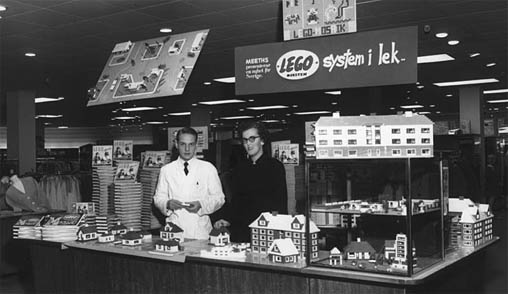 Meeths department store display, 1955
Axel Thomsen and his wife Grete were Danish expatriates living in Lundby, a northern suburb of Göteborg, Sweden. Greta was rather adept at designing miniature dollhouse furniture and in 1947 Axel sold some of these designs to the Swedish department store Ferdinand Lundquist. In 1948 the Thomsens moved the fledgling operation to Lerum, Sweden and began production of not only dollhouse furniture but dollhouses as well. The company became AB Lundby Leksaksfabrik.1 1. Over the years Lundby has gone through many changes of ownership, but the basic assymetrical wooden dollhouse, considered a classic Swedish toy design, is still available today. For everything you need to know about Lundby see: Sue Morse's We Love Lundby Club.
AB Lundby became Lego's exclusive Swedish distributor. By this time, however, the factory in Billund could not manufacture enough sets for their growing foreign markets, and the Swedish sets were supplied from both Lego in Billund and Norske Lego A/S. Lego finally set up their own sales subsidiary, Svenska LEGO AB in Lerum, on 15 Dec 1959.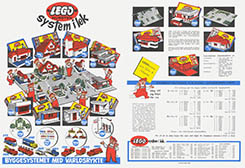 Lego System i Lek catalog, 1956
Reykjalundur
In what would be their most unusual license arrangement, Lego licensed the molds for Lego Mursten to SÍBS in Iceland in 1956.2 2. SÍBS is the acronym for Sambands íslenskra berkla- og brjóstholssjúklinga (Icelandic Association of Tuberculosis and Thoracic Patients), but you probably knew this already. Reykjalundur was sold to private investors in 2004 and is now Reykjalundur Plastiðnaður (Reykjalundur Plastics Industries, Ltd). SÍBS was established in 1949 in Reykjavik as a rehabilitation center for tuberculosis patients and included an occupational therapy center, Reykjalundur. Arni Einarsson, the director of SÍBS, was looking for relatively simple plastic products for the patients to manufacture. Through a third party, Elmo Nielsen of the Copenhagen wholesale company Elmodan, he obtained Lego Mursten molds in 1955.
From 1955–1960 the Icelandic sets were not sold as Lego, but under the name SÍBS kubbar (SÍBS building blocks). Around 1960 SÍBS looked into printing their own Lego boxes and found that it was cheaper to buy the packaging directly from Billund. From this point on the sets were sold under the Lego name.


Reykjalundur Lego production, 1960
Later, in 1974, SÍBS began Duplo production and they continued to mold, package and distribute Lego until 1977, By this time the system became simply to large and complex. Lego in Billund took over manufacturing and packaging but, due to the small size of the market and the unusual nature of the licensee, Reykjalundur continued the distribution of Lego in Iceland, a practice that continues to the present day.
Although these were baby steps, taken in small markets close to home, they were the beginning of Lego's world domination. Godtfred largely relied on licensing for these early exports but soon realized that his only chance at foreign success was to have his own sales companies. As he explained in 1967: "We would have disappeared in the multitude of competitors if we had placed ourselves in the hands of wholesalers." 3 3. "Toys from Jutland." Time Dec 22, 1967. It was an idea he would soon test in Europe's largest toy market.