System i Leg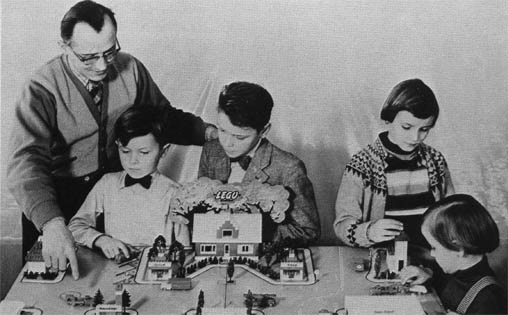 Godtfred demonstrates the System i Leg, 1955
In January 1954 Godtfred attended the London Toy Fair. On the ferry across the North Sea he began a discussion with Troels Petersen, the toy buyer from Magasin du Nord, the largest department store in Copenhagen. Petersen discussed the fact that all toys seemed to be one-off items and that there was no cohesive toy system available.
Once back home in Billund, Godtfred began to give this idea serious thought. He drew up a list of attributes he thought a toy system should have and began to review his own products for a possible candidate. The result was the now classic Principles of Play. These principles were issued to every Lego employee in 1962 and still stand as the core principles of the company.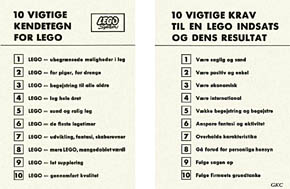 10 Important LEGO Features:

1 LEGO — unlimited play potential
2 LEGO — for girls, for boys
3 LEGO — fun for every age
4 LEGO — year round play
5 LEGO — healthy and quiet play
6 LEGO — long hours of play
7 LEGO — development, imagination, creativity
8 LEGO — the more LEGO, the greater its value
9 LEGO — extra sets available
10 LEGO — quality in every detail
Godtfred reviewed the company's current designs (at the time over 200 different wooden and plastic toys were on their price list) and finally decided that the Lego Mursten showed the most promise for expanding into a true system. He organized the existing Lego Mursten sets and modeled new designs around a single, common theme — a townscape or street scene. After nearly a year of development the result was the Lego Mursten System i Leg (System of Play). As Godtfred wrote to sales agents in 1955:
1. Hansen, Willy Horn. 50 Years of Play. Trans. Charles Napier. Billund: Lego System A/S, 1982. "It has been our intention to create a toy, which has a value for life — a toy, which appeals to the child's imagination and develop that need to create and creative zest, which is the motive power in any human being." 1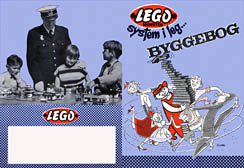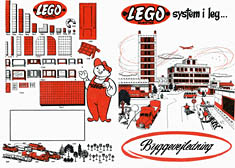 System i Leg idea book and catalog, 1955
The System i Leg (System of Play) was unveiled at the Nürnburg Toy Fair in February 1955 but the reaction was less than positive. One buyer even said that "the product has nothing at all to offer the German toy market." Even some Danish retailers were skeptical, but the buyer from Magasin Du Nord, whom Godtfred had talked to 13 months earlier, was excited about the system and even set up a special ground-floor display for its Danish launch. The System i Leg was well received in Denmark and sales in 1956 nearly doubled.
The Town Plan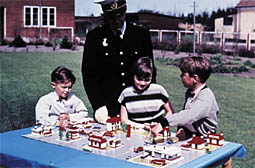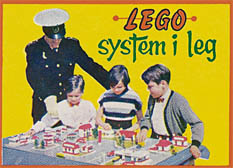 Promotional photo and the resulting box cover, 1955
The Town Plan originally consisted of the existing 700 series Mursten sets, several new HO scale accessories, and a vinyl play mat — all integrated into a street and town theme:
1200 Town Plan mat. A vinyl mat labeled with 'Byg Din Egen Lego-By' (Build your own Lego Town)
HO (1:87) scale vehicles (1250—1257)
1240 HO scale trees, 1241 bushes and 1248 signs
Several new small sets (1210—1213)
The 700 series sets (700/1, 700/2, 700/3, 700/3a, 700/4, 700/5, 700/6)
The system allowed children to not only to build architectural models, which had always been featured in Lego catalogs, but added play value with a completely new series of cars, trucks, and street signs. 2. Although Godtfred hoped that the System would teach traffic safety, similar to the 1947 Monipoly board game, it is more likely that a generation of European children were introduced to the joys of crashing cars and running over police figures! Godtfred also hoped that the system would have some educational value, such as allowing children to learn the rules of traffic safety.2
Over the next several years the system was greatly expanded with both new building sets and many HO scale accessory sets, such as:
1955: 1247 Esso Pumps
1956: 1270 Motorcyclists, 1271 Traffic Police
1957: 233 Street lamps
1958: 261 VW Beetle
The 1:87 Scale vehicles
The 1:87 scale (HO scale) vehicles were perhaps the most important component of the new Town Plan. The vehicles consisted of a metal frame with metal axles and wheels and a plastic body. In many ways these were scaled-down versions of Lego's earlier Modelbiler. The initial series consisted of eight different trucks based on the British Bedford lorry. These were followed by the VW Bus in 1956 and the VW Beetle in 1958 and later by a number of European auto models such as Citroen, Ford, Jaguar, Mercedes and Opel.
In 1965 the Bedford trucks were replaced by a series of Mercedes trucks under a new license arrangement. From 1956–1969 no less than 17 different truck and 20 different car models were produced.
The Town Plan Buildings
With the System of Play now established Lego began to produce larger architectural sets; models of specific buildings that were intended for the Town Plan. Most of these sets featured the new HO scale accessories and vehicles. In 1956 they released the Esso Station (1310/310) and in 1957 the VW Showroom (1307/307), Fire Station (1308/308) and, of course, a Church (1309/309).
The Wood Boxes
In Denmark, and later Scandinavia and Germany, each component of the Town Plan was sold as a separate set or accessory pack. It was perfect marketing; parents could always buy a new, relatively inexpensive set to add to their children's collection. But, as Lego continued to expand into new European countries, this marketing was also created distribution headaches; there were simply too many small sets to manage.
In 1957 Lego also released the first of the 700 Wood box sets. These large sets, containing several hundred elements including many of the HO scale accessories, were packaged in wood boxes and in may cases included a fiberboard version of the Town Plan as a lid. It was also a convenient way to sell the System i Leg in a single, albeit expensive, version.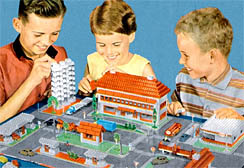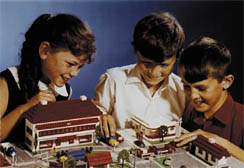 Town Plan promotional images, 1959 and 1961
When Lego began sales in the UK and North America in the early 1960's the Town Plan was offered only as a single large set: the 810 Town Plan or the 725 Town Plan. These were packaged, not in wood boxes, but in large cardboard boxes, with cardboard town plans, and included all of the components necessary for a complete Town Plan.3 3. There was so much cardboard involved that British Lego Ltd. contracted out the printing of the Town Plan box (810) and board (200) to the game manufacturer John Waddington. Waddingtons is perhaps best known as the UK licensee of Monopoly and Clue.
These large sets represented the last of the Town Plan and the System of Play. By the early 1960's new Lego System elements, such as the wheel and, later, the motor, signaled a new type of construction that would be the future of the company. By 1966 the Town Plan sets were discontinued and in 1970 the 1:87 vehicles, the last remaining Town Plan component, was discontinued.
Architectural toys date back to the 1800's and have an especially rich history. By the mid 1950's there were dozens of manufacturers: American Bricks, Bayko, Kiddicraft, Lincoln Logs, and Minibrix, to name just a few. But none of these toys formed a system. This potential of the brick as the basis of a fully integrated system was an idea that only Godtfred and Ole had fully grasped. The System of Play clearly separated Lego from the many other similar toys and stands as the company's first important innovation.
Lego Mosaik


Lego Mosaik catalog, 1955
The 1300 and larger 1301 Lego Mosaik sets, released at the same time as the other System i Leg sets, consisted of 10 × 20 baseplates and a collection of small bricks, These sets, marketed primarily to young children and girls, allowed the creation of pictures or mosaics using the baseplates as a background. The sets do not appear to have been very popular and were discontinued after only two years.
The idea, however, was not forgotten. Lego has revisited the concept many times over the years, such as in idea books and even several Dacta sets. By the late 1990's adult enthusiasts, using homemade digitizing programs, were creating impressive large-scale mosaics:


Henry Lim's Sgt. Peppers mosaic, 2001
Lego responded by releasing the 3443 Mosaic generator in 2000. Customers could upload a photograph, generate a mosaic, and Lego would supply the instructions and elements.4 4. The Lego Brick-o-lyzer was based on (and commissioned from) Eric Harshbarger's popular Pixelego program. The concept of user-defined models fulfilled by Lego would appear again in the Lego Factory. Finally, coming full circle, the Lego Creator Mosaic sets, which were remarkably similar to the original Mosaik sets, were released in 2007: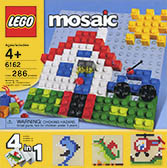 Set 6162, 2007