Lego Mursten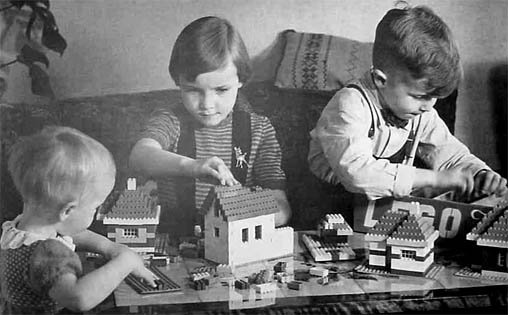 Hanne, Gunhild and Kjeld in a 1953 promotional photo
After the Danish trade magazine Legetøjs-Tidende visited the Billund factory in 1950 they wrote that "Plastic toys will never take the place of good, solid wood toys." But, in retrospect, it appears that they may have been wrong: plastic consumer goods, including toys, were starting to gain public acceptance in Europe. Lego saw a dramatic spike in plastic toys sales in 1952 and by 1953 they accounted for nearly half of the company's revenue.
Despite their success with plastic toys, the Automatic Binding bricks were still not selling very well. At most they accounted for about 5–7% of total sales. In 1952 Godtfred decided that they needed a more descriptive name and he added the phrase "Lego Mursten" (Lego bricks) to the boxes and in 1953 the sets were renamed simply Lego Mursten.
Lego Mursten


Lego Mursten idea pamphlet, 1953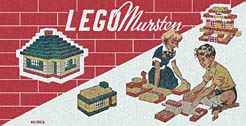 Set 700/6, 1952


set 700/C, 1953
Despite poor sales, Godtfred and Ole apparently had faith in the Lego Mursten and continued to expand it. But with no specific concept or plan in mind the result was a rather confusing marketing approach. From 1951–1955 Lego Mursten was sold as Gift Sets, Supplementary sets and even as single pieces. And these were packaged in no less than three completely different box styles, each overlapping the other.1 1. From 1949, when the first 4-color packaging was produced, until 1955 nearly every Lego package was a one-off design. Although all of the boxes had "LEGO" somewhere on the cover there was no consistancy, continuity, or sense of brand identity. These may also be some of the most interesting examples of all Lego packaging.

2. I have no intention of detailing every element. For that see: Istok, Gerhard. The Unofficial Lego Sets/Parts Collectors Guide, v3. St. Clare Shores, MI, 2009. For a nearly definitive guide to brick variations, see: João Manuel Mimoso's Lego Pages
Over the next few years a number of new elements were developed,2 such as:
1951: 10 × 20 thin baseplate
1953: 1 × 2 and 2 × 3 bricks, 10 × 20 baseplate (700/E)
1954: 1 × 1 round and square bricks
1954: 2 × 8, 2 × 10, 2 × 12, 2 × 14 beams
1954: 4 × 4 corner brick
1955: plates (1/3 height bricks)
They also introduced a new system of five windows and a door in 1954. The new windows had "wings" on the bottom that fit around the studs of the bricks and did not need the slots. But, to add to the confusion, this new system didn't replace the old one, both types of windows were sold simultaneously until 1956. By the end of 1954 there were 22 different elements available.


Lego Mursten catalog, 1954
In addition to the 700 Gift Sets, Lego also began to market the first supplementary sets, such as the 700/B Vinduer og Døre (Windows and doors) and the 700/C Vinduer og Døre, Med Glas.
During this time Lego also began individual parts sales, a practice that began with the Ferguson Tracktor in 1951. Lego would supply dealers with wooden parts boxes and refill packs. It was possible, for example, to buy a single 1 × 2 brick (700 1/4: 0.06 DKK) or single 2 × 4 brick (700 1/1: 0.13 DKK). The 1954 price list had 20 different individual elements. These individual part sales would continue, at least in some markets, into the late 1950's.
Although Lego had clearly expanded the Lego Mursten range, and, one could argue, even began to develop a cohesive system with the new windows and doors it would take another year for all of Godtfred's ideas to fall into place.
The Modelbiler


Lego Modelbiler catalog, 1955
The 900 series Modelbiler were 1:43 scale cars and trucks based on Chevolet prototypes and produced during the early to mid 1950's. The assortment included a number of cars, delivery vans and flatbed trucks.3 3. It is interesting to note how similar these were to the 1:43 zinc diecast Tekno models of the same time: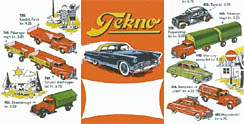 The vehicles consisted of a zinc metal base and a plastic chassis. Several models featured a clockwork motor and the Kabelstyrede Modelbiler featured steerable front wheels that could be controlled by a spring cable (the 950 Kabelrat).
The Modelbiler were quite popular and perhaps the most important of the plastic toys prior to the indroduction of the System i leg. These large models also served as the inspiration for the smaller 1:87 vehicles produced several years later.