The Lego Train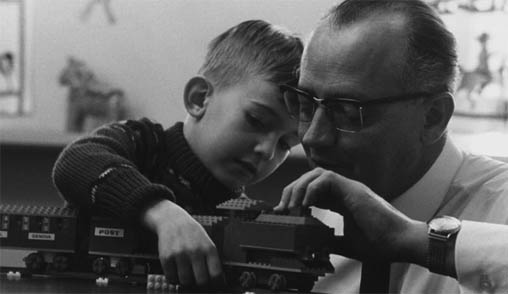 Godtfred demonstrates the Lego train, 1966
Both Lego Futura and the process development lab had spent several years developing a new electric motor. Not a motor like the one for Samsonite the year earlier, but one that truly integrated into the system. The motor assembly, which at the time was the most complex design ever attempted by Lego, consisted of a 4 × 12 × 4 plastic housing, a 4.5 V electric motor and a series of reducing gears. This motor and corresponding battery box allowed Lego to create a number of motorized sets, including the first Lego train.
The Toy Train
There is perhaps no toy of the 20th century with a richer history than the toy train. The toy train was revolutionized when Märklin, a German dollhouse manufacturer, produced the first complete system of clockwork-powered tinplate trains in 1891. Märklin's dollhouses, with all of their various additional pieces, created a profitable revenue stream from girls and they hoped that a train system would do the same with boys.
The idea was a success and, as household electricity became more common, many manufacturers, both in Europe and the US, started producing electric train sets. Over time these toy trains became more complex and realistic and eventually evolved into true-to-scale model railroads. The train as a toy, however, peaked in the 1950's with many companies producing sets, such as Märklin and Fleischmann in Germany, Hornby, Bing and Trix in the UK, and American Flyer, Marx and Lionel in the US.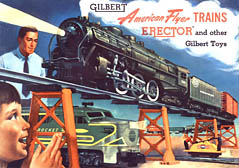 A train system seemed a natural fit for Lego; the expandable nature of the toy train fit in well with the Lego System marketing strategy and it was easy to implement with their newly-developed motor.
The Blue Era


The Lego track patent
Futura developed a number of new elements for the train system, including hook couplers, flanged wheels and, of course, a track system. The rails were simply long straight or curved plates modified to include a rail. These were attached to 2 × 8 plates that served as ties. They also introduced a cross-over and a manually-operated switch.

Stills from Samonite commercial footage, 1967
Several train sets, such as the 113. 114 and 115, were released in 1966 and Lego began to feature the new system in its catalogs and idea books. The trains, were popular enough, especially in Europe, that Lego expanded the system with several accessories, most notably an electronic control unit that controlled the motor by a high-pitched whistle. But still, the train system wasn't very realistic, even by toy train standards.


European Lego train catalog, 1970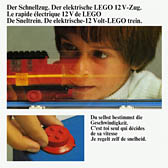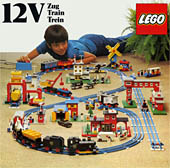 European Lego 12V train catalogs, 1974 and 1976
Lego addressed this in 1969 by creating two separate train systems; a 4.5 V system marketed primarily at younger children, featuring a new motor for the locomotive and a specially designed tender to hold the batteries and a 12 V system, designed for older children, which used a transformer and ran on electrified track. The new track was accomplished by retrofitting the existing track with a 2-rail conductor in the center.
The 4.5 V and 12 V train sets continued to be sold in Europe until 1980 but these sets were never available in the US.
The Gray Era
In 1980 Lego released a completely overhauled 12 V system, including new motor unit, transformer and a greatly expanded track system. The new sets were much more realistic and many were based, at least loosly, on German DB or European prototypes. Until recently, these models represented some of their most realistic designs.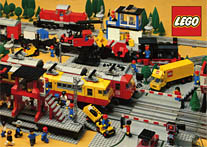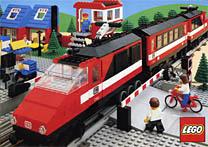 European Lego train catalogs, 1983 and 1986
But the true high point of the 12 V trains was the modular electric system. Lego produced electric crossovers, signals, lights (both street lights and train lights), level crossings and uncouplers, all of which could be daisy-chained to an auxillary output on the transformer. It was as close as Lego ever got to a true model railroad. As before these sets were only available in Europe.
As good as the overall design was it was also becoming increasingly cost-prohibitive for Lego. Virtually all the 12 V components were entirely different than the rest of their toy range and by the end of the decade Lego decided to simplify their electrical program.
The 9 V Era


German Lego Service catalog, 1991


Lego trains, 1981–2003
In 1990 Lego standardized the entire toy range on a new 9 V electrical system. The new 9 V trains utilized a new transformer and speed regulator, one that didn't allow for any accessory components. They also developed a new, simpler, and much less costly, 2-rail electrical track system.
In 1991 Lego released two quite realistic sets: the 4551 Crocodile and the 4558 Metroliner, but as the decade progressed the 9 V sets became much more generic in design, emphasizing play value over realism and by the mid 1990's they were producing sets, such as the 4559 Cargo Railway, that were entirely based in fantasy. By the late 1990's the train system appeared to be coming to an end.
What saved the 9 V train line, at least for a while, was the internet. By the mid 1990's a surprisingly large adult following of the train system had developed a significant internet presence through usenet (rec.toys.lego), and later, specific user groups and train clubs.1 1. For an overview of Lego train clubs and their activities see ILTCO.org, the International LEGO Train Club Orginzation site. Lego responded to this new market by designing several surprisingly realistic models, such as the 10020 Santa Fe Super Chief in 2002, and the 10133 Burlington Northern Santa Fe in 2004. The train clubs continued to expand and to create more elaborate displays, culminating in the centerpiece layout at the 2005 NMRA Convention in Cincinnati.
The RC Era
However much goodwill was generated by the adult hobbyists, it was certainly offset by poor train sales to Lego's core childrens market and in 2006 they followed the example set by other manufacturers, such as Playmobil, and switched to a battery-operated remote controlled design. For a while Lego continued to market both systems; they even produced the 10183 Hobby Train set in 2007, a set designed by several adult enthusiasts. But finally, in an Oct 2007 press release, they announced the end of the 9 V system, citing lack of sales, and their intention to model the future trains around their next-generation electrical system; the Power-Function system.