Gear Wheels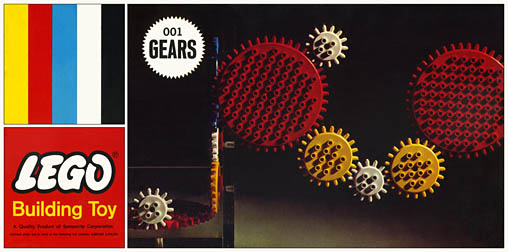 Set 001, 1965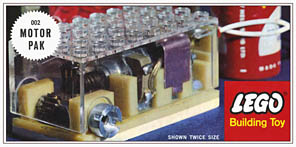 Set 002, 1965
Continued sales growth for the company also meant continued expansion of its manufacturing capacity. In addition to larger factories in Billund the first foreign plants were built: British Lego Ltd. opened a factory in Wrexham, Wales in 1963 and Lego Werkzeugbau GmbH, in Hohenwestedt, was opened in 1964. The German tooling shop at first produced molds for the 1:87 cars, and would eventually supply molds for most Lego elements. In April 1965 Samsonite opened a 50,000 ft2 plant in Loveland, Colorado. By 1966 the company was molding 706 million pieces a year.
Futura was also increasing the pace of new development and by 1966 there were 57 sets and 25 vehicles and by 1967 there were 217 different elements. They also developed several new elements specifically for the North American market.
Samsonite began to look for ways to broaden the age range of the System based on the demands of US retailers. In 1964 they introduced jumbo-sized preschool bricks and in 1965 gear wheels and motors for pre-adolescents.1 1. Perhaps coincidentally (or not) Gerhardts' Bilofix also began marketing cog wheels and electric motors the same year. The Pre-School Bricks were very large (1 × 2 × 4 inch) 2 × 4 bricks similar in design but not compatible with the standard Lego brick.
The Gear Wheels
The gear wheels were a natural extension to the wheels developed in 1962 and allowed children to expand their constructions to include mechanical toys or models with rotating parts or geared transmissions. The gears were essentially large round plates with studs on the top and tubes on the bottom. Other parts could be connected with the typical stud-and-tube coupling. The gears could be made to rotate by attaching them to a wheel and wheel brick or to a 4 × 4 round turntable. The design of the gears was carefully thought out, even the pitch of the teeth was designed to accommodate a stud, but the final product was not very elegantly integrated into the Lego system.


Samsonite mail-order ads, 1966


Samsonite Lego catalog, 1967
The gears were designed in Billund by Knud Moller Kristiansen and patented in several countries but were only marketed by Samsonite in North America. Samsonite highly promoted the gear wheels, and featured them in sets until 1972. Futura also developed a companion electric motor that was sold only by Samsonite.
It is apparent that both of these designs were rushed to market. The lack of compatibility is something that Futura would later address.