Modulex
In the early 1960's Godtfred was building a new house and, naturally, he tried to model the structure with Lego bricks. The problem was that the Lego brick, with an aspect ratio of 6:5, was different than standard European construction modules of 1:1. Rather than contend with the problems of using regular Lego bricks he simply had new, special bricks molded for him. Bricks that would allow him to more closely copy his architectural plans.
These new bricks were based on a 5mm cube (1:1) and were about 5/8 the size of a standard Lego brick. After he finished his house model, Godtfred began to investigate the possibility of marketing these elements to architects and planners. In 1963 he created a new company, Modulex A/S.
The M20 System
The M20 system, their first product, was intended for architectural modelling and consisted of a range of bricks, slopes, tiles, baseplates, windows and letter tiles based on the 5mm cube and intended for 1:20 scale building (hence the name M20). The system also included several unusual items, such as baseplate foil, a foil comb and cutter, even solvent-based glue. The early elements were molded by Lego and had the familiar "LEGO" logo on the studs. Later elements had a simple "M" (for Modulex) on the studs.


Modulex box designs, 1963–1982
The system never caught on with architects1 1. With at least one notable execption: The Finnish-American architect Eero Saarinen, designer of the TWA Terminal at JFK and St.Louis Gateway Arch, liked to prototype structures with Modulex and Lego bricks. but it did with industrial planners who found the system to be useful in process layout and prototyping. So in 1966 Modulex released the Modulex Planning System. The planning system extended the product line to include various plates, tiles and blocks with letters, number and symbols. It became widely used and was the first commercial success for the company.


US Modulex catalog, 1975
Architectural Signage
During the next eight years more planning products were released and in 1974, after several years of development, Modulex introduced Interior 10, an architectural sign system based on many of the planning-system components. The product was a success and even won the Danish ID Design Prize. Their first exterior sign system, Exterior 500, was introduced in 1979.
The success with architectural signage resulted in a new focus for the company. In 1993 Modulex merged with ASI Sign Systems and today ASI-Modulex is the largest signage and wayfinding company in the world with subsidiaries in more than 35 countries.
The planning system was not completely forgotten however; a new system, Plancopy, was introduced in 1982 and updated in 1994. This system is still available to this day.
Interlego AG
In order to protect his expanding business and, at least in part, to avoid Danish tax and corporate law, such as board representation, Godftred established Interlego AG in Zug, Switzerland. So the Lego Group now consisted of two parts: Lego A/S in Denmark and Interlego AG in Switzerland. The intellectual property of Lego, including the trademarks and patents were assigned to Interlego, while the production and marketing were still carried out by Lego A/S. It was the beginning of what would become a very complex corporate structure.
The Architectural Sets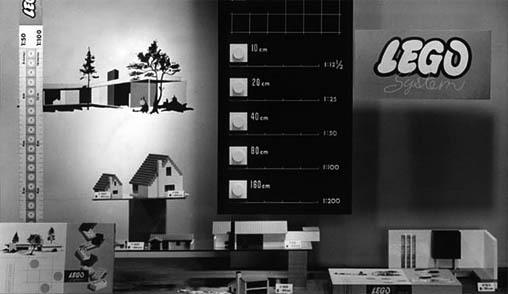 Architectural Set trade display, 1963


German Hobby und Modellbau catalog/idea book, 1963
While Godtfred was establishing Modulex, Lego released their own series of architectural sets marketed primarily to adults. The sets included graph paper and a ruler with instructions on designing scale models. The series consisted of three large sets, 750, 751 and 752 as well as several supplementary sets.
The sets consisted of just bricks and plates, and included none of the specialized roof, window or door elements. Perhaps this limited assortment seemed suitable for the international-style buildings pictured in the idea book, but it fell far short of the architectural possibilities of the entire system. The series was not successful and was discontinued in 1965.