Samsonite
For an expert review of the Samsonite-produced Lego catalogs, idea books and sets see Eric Strand's site Although there were several notable early American toy and game manufacturers, such as A.C. Gilbert, Milton Bradley and Parker Brothers, the US never had the toy-making tradition of Europe. Nevertheless by the late 1950's it had become the largest toy market in the world.
By the 1950's a pent-up war-time demand for consumer goods, along with a huge post-war manufacturing capacity, especially in plastics, resulted in a dramatic increase in consumer spending, Coupled with a doubling of the birthrate―the "baby boom"―the US toy industry began to flourish.1 1. It is not coincidental that the largest toy company in the world, Mattel, was founded in California during this time. Finally, and perhaps most importantly, the age of television began and in 1952 Hasbro created the first toy commercial (for Mr. Potato Head). Television advertising directly to these "boomer" children, rather than to their parents, completely changed how toys were marketed and revolutionized the entire industry.
Clearly North America was an important market but its sheer size and distance from Denmark required a sales and distribution network that was too large for Lego to manage at the time. So, similar to the UK market, Godtfred looked for a licensing partner and he found it in the most unusual place: Shwayder Brothers, Inc.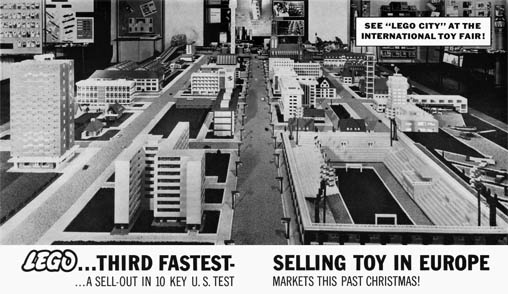 Shwayder Bros trade ad, 1962
The Shwayder Bros. Trunk Company was founded in Denver, Colorado in 1910 by Jesse Shwayder. Jesse and his four brothers began to manufacture trunks and suitcases. In the 1940's they developed a process for lithographing an image on cellulose acetate covered luggage and marketed it under the name Samsonite.2 2. After the success of the Samsonite luggage, named after the biblical Samson, Shwayder Brothers began marketing all of their products under the Samsonite brand. It wasn't until 1965, however, that the company changed its name to the Samsonite Corporation. By the 1950's Shwayder Brothers, Inc. had several manufacturing facilities producing both luggage and furniture. By the early 1960's they were looking to expand their business and felt that their experience with both plastics production and retailing fit well with the growing plastic toy industry and an arrangement with Lego seemed to be a perfect fit. So when a Shwayder executive met Godtfred on a business trip in Europe he bid on the US license.
Godtfred signed an agreement with King Shwayder, the son of the founder and now president of the company. The result was a 99-year license for exclusive North American distribution rights. Shwayder Brothers began marketing sets under the name 'Lego by Samsonite' in the US in 1961 and Canada in 1962. Samsonite set up a separate sales organization for Lego, but they also began to develop and market a full range of toys, such as educational preschool toys, board games, childrens furniture, and in 1968, after they bought the Manning Manufacturing Corp, a range of roller and ice skates.
Early sets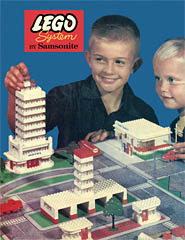 Samsonite sets, presented in full color and displayed in descending size
3. Samsonite never molded elements with the same care that was used in Billund. It is common, for example, to see bricks with the Lego logo in different orientations. Samsonite also continued to use the less expensive cellulose acetate years after it was changed to ABS in Europe. Initially Samsonite manufactured the basic bricks in their existing Stratford, Ontario plant and imported the specialty pieces, such as the trees and HO vehicles, from Billund.3 They also set up a model shop in their Detroit furnuture plant. The original US retail assortment was not the same as the European assortment but was, at least, marketed similarly: They offered a series of sets, including the large 725 Town Plan and the 717 Junior Constructor, which was unique to Samsonite, as well as several smaller 700 series "Gift Sets" and a number of Supplementary Sets.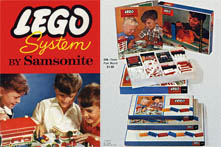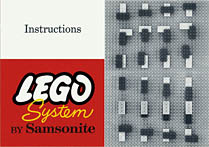 Samsonite Lego System catalog and Idea Book, 1962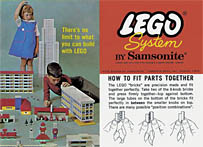 Samsonite Lego System catalog, 1963
Mid-1960's Sets
The mid 1960's Samsonite sets are covered in more detail later in the story.In April 1965, Samsonite opened a second plant, a 50,000 ft2 facility in Loveland, Colorado, devoted exclusively to Lego manufacturing and by the mid 1960's Samsonite was marketing an almost completely different assortment than in Europe. This new assortment included sets much larger than those in Europe; such as the 003 Master Mechanic, the 004 Master builder and 704 Master Discovery sets, as well as several sets, such as the 001 Gear Set, 002 Motor Pak and the 041 Beginners Set, which included special pieces developed by Lego Futura exclusively for the North American market.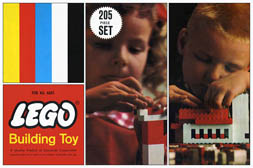 Set 205, 1966
Throughout the 1960's Samsonite continued to market a relatively small number of sets: the 1963 retail catalog listed just 51 sets; the 1967 dealers catalog just 28 sets and the 1970 catalog just 41 sets. In addition to the retail sets, however, Samsonite also offered a number of special mail-order sets. Nevertheless their total assortment was never more than a fraction of the European retail assortment.


Samsonite Lego System catalogs, 1966–1970
The Catalog Sets
Unlike the European licensees, Samsonite relied heavily on mail-order retailers, such as Sears, JC Penney and Montgomery-Ward. The early catalog offerings were the same as the retail sets but they soon began to produce exclusive sets for the catalog companies. With the manufacturing capacity of two plants, Samsonite began to produce sets that were much larger than those sold in Europe and by the late 1960's these large catalog sets, packaged in a plain brown shipping carton, were as large as 800—1200 pieces. It was a marketing practice that greatly decreased profits and clearly disturbed Lego.
The End of the License
4. Different sources give a figure between 5–8 million USD. I picked eight just because I like the number.At its peak in the late 1960's Samsonite managed annual Lego sales of about eight million USD — figures far behind those seen in Europe.4
The problem was that Lego had to share marketing resources with a wide range of other Samsonite toys and, perhaps more importantly, the entire toy line was marketed just like the company's suitcases and furniture. They found that unlike their core business, toy retailing required too many special deals and conditions. As a Samsonite executive stated in a 1976 interview: "Our managerial expertise was better suited to consumer durables than to toys, so we eased out of the toy business." 5 5. "A Danish Toymaker Puts It Together in the U.S." Business Week Sep 6, 1976: 80, 83. As their relationship with Lego began to sour and as Godtfred realized that Lego could now manage the North American market, Lego started the process to revoke the license; one that apparently involved litigation.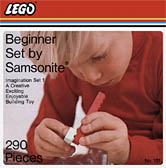 Set 101, 1972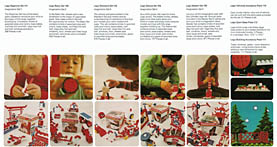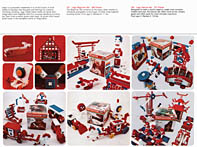 Samsonite Lego System catalogs, 1972
Samsonite responded by drastically scaling back their retail assortment. The final 1972 catalog shows just eight different sets, all packaged in simple square boxes that emphasized the Samsonite rather than the Lego brand. Their considerable remaining inventory was liquidated in the form of ever-larger sets, including catalog sets which, by this time, were as large as 1300 pieces.
In 1972 the rights for US production and distribution reverted back to Lego. As part of this agreement Samsonite continued to market sets in Canada until 1986 and Lego paid royalities to Samsonite until 1989. Samsonite was also allowed to sell off any remaining inventory and the large catalog sets were sold as late as 1974.