The End of the Wooden Toys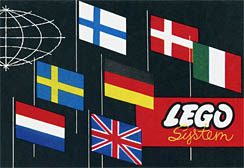 238 Idea Book, 1960, and the System in Play brochure, 1963
The new Bilofix division didn't last very long. On 4 February 1960 the warehouse in Billund burned down and destroyed virtually the entire inventory of wood toys. It was the second major fire for the company and the fourth for the Kirk Christiansen family. Godtfred did not rebuild the warehouse but instead, after some consideration, he dropped the wood toy line completely.
By the late 1950's most of the European trade barriers set up after the War, including those in Denmark, had been lifted and Lego faced increasing competition in their home market not only from European toy companies, but from American and Japanese imports as well. The wooden toys were simply too labor intensive to compete against the mass-produced competition. Godtfred chose to compete with his own mass-produced toy ― the Lego System.


Lego design, production, assembly and packaging, 1961–1962
So the company was left with only a single product. This eggs-all-in-one-basket marketing approach was risky and the Brothers, particularly Gerhardt, argued against it. But Godfred was convinced that the brick and its system was the future of the company:
1. Hansen, Willy Horn. 50 Years of Play. Trans. Charles Napier. Billund: Lego System A/S, 1982. "We mustn't forget that only a very small section of consumers have so far appreciated the idea behind the LEGO system of play. The need will increase as more and more people understand what it's all about - and the better we are at our jobs, the faster demand will rise." 1
There had been disagreements between Godtfred and his brothers since he became the Managing Director and these became more serious over time. The brothers did not share Godtfreds enthusiasm for the Lego System and the decision to drop wood toy production was likely the final straw. In April 1961 Karl Georg and Gerhardt left Lego to start their own companies. Godtfred bought out the interests of his three brothers and became the majority shareholder of Lego.
Marketing



Danish and German comic book ads
Unlike his father, who packaged his wooden toys in brown wrapping paper or plain cardboard boxes, Godtfred believed in proper marketing and advertising. In 1958 he hired Helge Torpe as the marketing director and in 1959 they opened a photography department.
It was Helge who became responsible for the increasingly sophisticated graphics and displays, as well as a much more comprehensive approach to marketing. In 1960 he completely revamped the promotional materials for the company. The cartoon-like Lego mascot, dating back to 1954, was replaced by a new robot-like mascot made, appropriately, from Lego Bricks.

The old boxes featuring the Kirk Christiansen children were also replaced by a new, more contemporary, box design. This new design featured a gray studded border and one of a number of new promotional images showing children playing with their Lego creations. This series of photos were used in all of Lego's marketing including boxes, idea books and advertisements. It was their first attempt at a unified, international approach to design.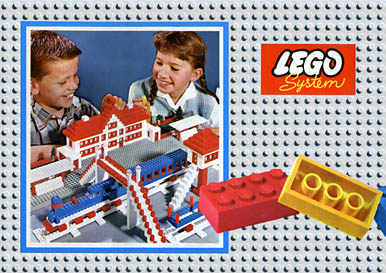 Set 700/3A, 1960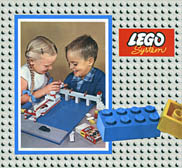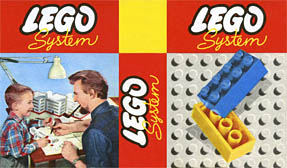 Set 700/5 and the supplementary set, 1960
A new modern looking box is one thing but Godtfred and Helge both realized that maximum impact occurred at the point of sale. Helge developed many new marketing materials, including flyers, pamphlets, posters and models, all based around this new graphic approach. The result was extravagant and eye-catching store displays.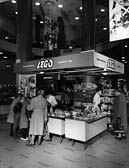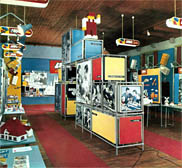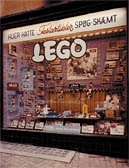 Various European window displays, ca.1960
It was the beginning of serious advertising and marketing. Lego and their sales companies would typically out-advertise and out-market the competition and this philosophy continues to this day. Of course this comes at a price: advertising and marketing account for about 20% of the cost of a current Lego set and is one of the reasons Lego has always been an expensive toy.