Wooden Toys
No matter how difficult life was for Ole and his family in the 1920's it could always get worse. And, of course, it did. The US Stock Market Crash of October 1929 signaled the beginning of the Great Depression. The economic downturn rippled across the financial and industrial centers of the world, first North America, then Europe and Asia.
When the Great Depression reached Denmark in 1930 agriculture was the first sector to be hit and the effect was devastating for the farmers around Billund. As orders for new work dwindled Ole struggled to survive. He had to let go of his last journeyman in December 1931.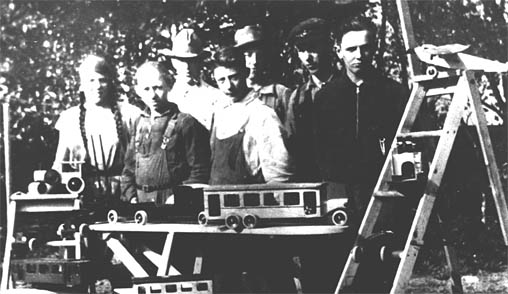 Employees pose with examples of early wooden products, 1932
With virtually no new construction work Ole turned to making small household items that he thought the farmers could afford, such as trestle ladders, step ladders, ironing boards, stools, Christmas tree stands and small toys.
Exactly how he came to produce toys is unclear. He began making miniature production models to reduce lumber waste and act as sales samples and in one version of the story he simply expanded into small toys using his new knowledge of miniature production. In another version the idea for toys was suggested to him by a social worker or the local Chamber of Commerce. But whatever his inspiration he started making wooden toys. Lots of toys: the 1932 price list shows no less than 28 different designs.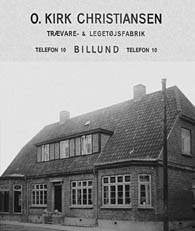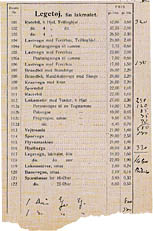 A 1932 advertising handbill and the 1934 price list
Soon after he began toy production a wholesaler from Fredericia, impressed with the toys' quality and hoping that the regions farmers would buy them for their children despite the poor economy, ordered a large shipment. By the time the order was completed, however, the wholesaler had gone bankrupt. So, stuck with the consignment Ole tried to sell them himself. He and the family drove from shop to shop in the region to sell them, often bartering for them, and, in one famous example, trading them for a sack of almonds.1 1. This story is often erroneously retold as the family going door to door to sell the toys. But even back then, direct sales to individuals were rare. Typically the toys were sold wholesale to co-op stores or to independent wholesalers. By the early 1950's Lego employed several sales representatives.
That same year more hardship fell on the family. The shop was struck by lightning and burned down (fire number two, for those counting along). Later in 1932 Kirstine died, leaving Ole to raise their four sons alone. Faced with losing his wife and his continued economic problems he sent his two oldest sons, Johannes (then 14 years old) and Karl Georg (12) to work on local farms in exchange for room and board.
In 1933 a disastrous drop in grain prices resulted in a complete bottoming out of the Danish economy, and along with the setbacks of the previous year and a brand new planer from Germany that cost more than last years entire profits, sent Ole again to the verge of bankruptcy.2 2. The planer cost 5000 DKK and the previous years net was around 4000 DKK. This would be the first of many instances where Ole spent more than he had. So along with his lawyer, he visited each of his brothers and sisters to ask for help in securing a bank loan. They helped him with the money but admonished him to do something more practical than build toys.
Of course Ole wasn't going to stop making toys. Instead they became his primary focus:
"The day came when I said to myself: 'You've either got to give up your craft or drop the idea of making toys.' That's when a bit of meaning came into my life."
The loan from the rest of the family was repaid with interest in 1939.
The Wooden Toys


The original wooden toys, 2005 Billund display
For an extensive overview of the wooden toys see Richard Topelen's Miniland Online site. Ole's first wood toys were relatively large and simple in construction. His first designs included mostly vehicles; cars, trains, ferries, airplanes and buses, such as the massive 6 Hjul Rutebil (6-wheeled bus). Although simple in design the toys were finished impeccably and built with the same quality that Ole made furniture. Wood, typically birch, was brought in from the forest and air-dried for two years then kiln-dried for three weeks. The assembled toys were sealed, sanded, primed and finished with three coats of paint.

The next series of designs, from around 1935, included a number of animal models, including the classic pull-along duck. These designs were more complex and often required jig work from a pattern; a pattern that Ole would carefully draft himself. The animal models, which were produced until 1958, would become the most popular of the wooden toys.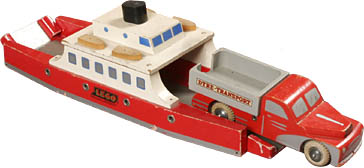 Over time Ole expanded the range with more, and more complex, wooden designs. By the 1950's Lego was producing so many different wooden toys that it would be difficult to catalog them all. In addition to the many car, truck and animal models there are also examples of sail boats, tractors, cranes, farm implements, coat hangers, doll buggies, sewing machines, bagatelle games, traditional wooden blocks, chalkboards, and an abacus. You get the idea.
As the plastic toys started gaining popularity in the mid-1950's the production of wood toys was scaled back and by 1960, when wood toy production was finally discontinued, Lego had produced at least several hundred different designs. In their 28 years of production none of the wooden toys were ever sold outside of Denmark.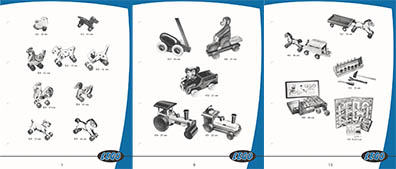 Wooden toy examples from the 1950's retailer catalog