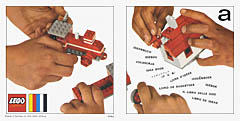 240 Lego System Idea Book. 3170-a
Lego AS, Europe. 1966
80 pages. 4-color offset on coated paper. Printed by Aller GmbH, Ulzberg, Germany. 1967.
The 240 Idea book was first released in the UK in 1966 and the rest of Europe in 1967 and was available until 1971. The 1966 UK version did not have the 'a' on the cover. Aside from the cover the book has no text making it suitable for any market.